TRAI New Rules & DLT Registration Process
DLT Registration Process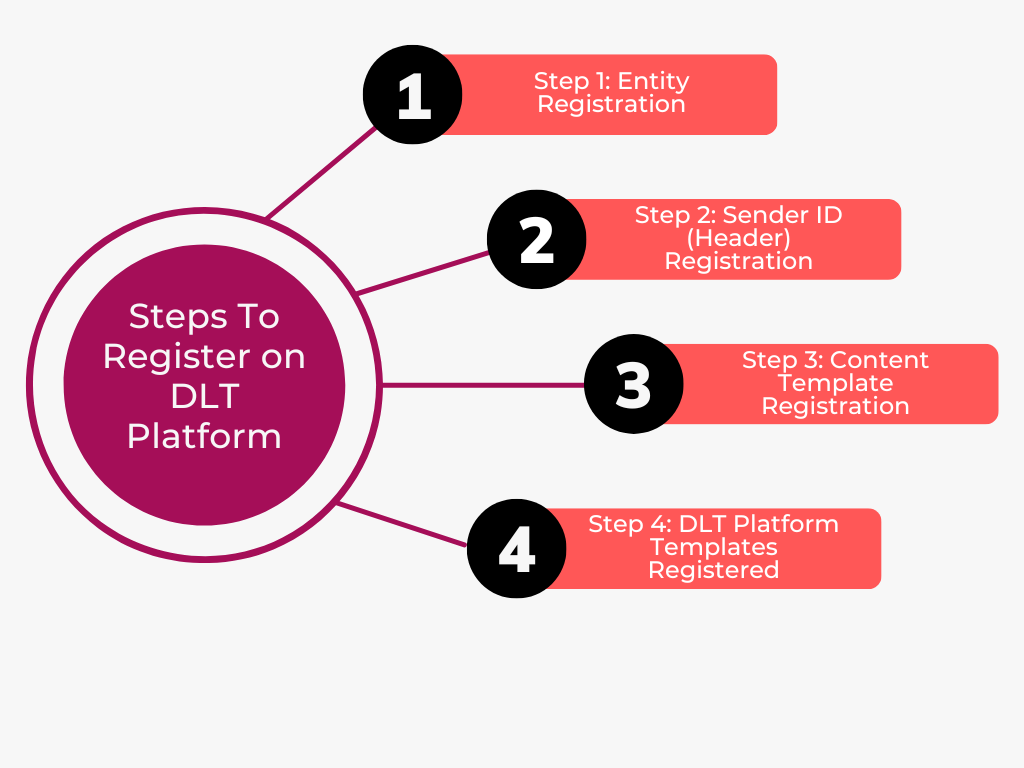 What is DLT?
Distributed Ledger Technology (DLT) is a block-chain based registration system. Dlt (Distributed Ledger Technology) is mandatory as per the new TRAI (Telecom Regulatory Authority of India) regulations for all transactions made by the network participants like Communication messages. (OTP, verification codes, notification, etc.,). The objective of TRAI DLT regulations is to bring transparency of SMS spam and protect the consumers from fraudulent practices. DLT is a block chain based on registration system that will maintain all the transactions made by business entities. You can register DLT in any of the following operators such as Airtel, Videocon, Vodafone, Jio, BSNL, Tata.Purpose of DLT is to Control the SMS Spam. whoever wants to send promotional bulk sms or transactional SMS to their customers needs to be DLT registered is must. The following DLT Registration Process explain how to register and send Bulk SMS to your customers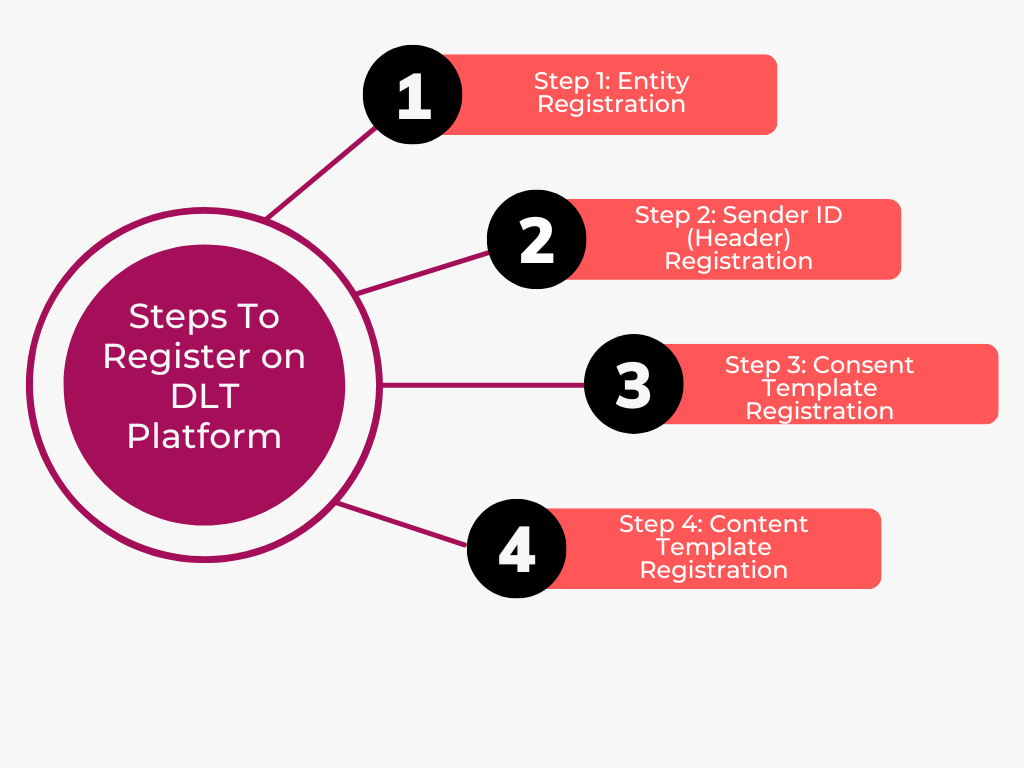 Business Entity Registration
Registration Process on DLT Platforms
Register on any of the DLT platforms below by filling in the required information and document. Post receiving Entity ID/Registration ID, please add it in your Creativepoint account: Log in to your Creativepoint account > Settings > Your Profile > Entity ID/Registration ID.
Principal Entity ID
As per the regulation, it is mandatory for every entity to register on DLT platform for transmission of commercial communication.
Classification of Principal Entity are:
Individual

Sole Proprietor

Partnership Firm

Private/ Public/ Govt. Limited Company

Limited Liability Partnership

Trust, Association, Security & Club (TASC)

Govt. Entity
A Principal Entity (PE) can register using the following steps:
Visit DLT platform (Hyperlink) and select to sign up as an Enterprise.
Provide valid business PAN, details of authorised person (mobile no. & email ID), business proofs and upload the documents and then pay the registration fee.
Entity registrar will validate and verify details provided by the Principal Entity within 72 working hours.
On successful registration, the entity registrar will approve, register and activate the Entity ID on DLT.
Header (Sender ID) Registration
Header is a unique combination of six characters representing the brand or company name of the message sender. Header was earlier known as Sender ID. In the revised TRAI DLT regulations for Bulk SMS, Sender ID is denoted by the term Header.

Template Registration
Consent Template Registration – It is the actual text of your SMS that has to be approved by DLT before sending it to your customers. … But, if you are sending marketing related SMS, then at first you have to submit Consent Template (Promotional SMS permission) and after it is approved, you have to submit Content Template (actual SMS text).
Content Template Registration – It is text message which entity or business needs to get approved from DLT platform before sending Bulk SMS. As per the New TRAI rules, it is mandatory for Businesses and Enterprises to register their SMS text as content templates on the DLT SMS platform.
Types of Content Template Registration:
Promotional SMS
Transactional SMS
Service Implicit
Service Explicit
Promotional SMS: is when a business sends their customers unique SMS messages for marketing or advertising purposes. Businesses use promotional SMS mainly to promote their products or services and generate customer interest, and to get their target consumers to engage with them in a more direct and efficient way.
Transactional SMS: are non-marketed messages like notifications and updates which are sent to customers for information regarding a particular product or service. … Through a transactional route, SMS can be sent to both DND and non-DND numbers, since they are used only for essential information and updates.
Service Implicit: Messages arising out of customer's actions or his relationship with the Sender, that is not promotional, and is not in the interest of the customer to block such communications.
Service explicit: Messages refer to the SMSes that are generated to you as the customer after consent is received by you to send these messages.
Is DLT Registration Free?